The Clarington House is one of seven home sites located in Meagher Valley. It is the starter base of the map, located in Turtle Ridge, on the eastern part of the map.
"A small but easily defensible home with enough space to support a small community."
Facilities
The base has 10 facility slots in total: 5 small outdoor and 5 small indoor slots.
Built-in Facilities
Open Slots
Layout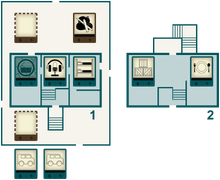 The Clarington House is a 2-story house - just like Cascade's Justineau House and Drucker's Vogel House.
The base is surrounded by a head height brick wall which can easily be climbed by friends and foes alike. Some sections have barbed wire on the top, but it doesn't help much during sieges - zombies can get in from a lot of directions. There are 4 entry points: A single gate on the front, another one on the south side, and two gates behind the garage (one on each side). Unfortunately the garage is only a set piece and has no functionality. There's a small outdoor slot in the front- and the backyard as well. The backyard also has the Trash facility which can be cleared, allowing you to build something else in its place.
The house has 4 entrances: The main door in the front, a side door on the north side, and two sliding door frames in the back - one downstairs and the other upstairs, accessable from the terrace.
Downstairs you can find the Master Bedroom, the Command Center, and the Double Bunk Room. The Master Bedroom must be repaired before you could use it. There's also a trashed bathroom, however it provides no benefits, just like the garage. Upstairs you can find your Storage, the Locker, and the Chef's Kitchen.
Both Parking spots are located infront of the garage.
Requirements
Trivia & Notes
This house is most likely a reference to Deb Claringtion, a character from the zombie comedy film Night of the Living Deb.