The Lundegaard Lumber Mill is one of five home sites located in Providence Ridge. It is one of the huge bases on the map, located in Sawyer's Crossing, on the south-eastern part of the map.
"A huge, roofed open space where we could build whatever we want. Comes with unlimited materials."
Facilities
Built-In Facilities
Open Slots
3x Small Indoor Slots
4x Large Outdoor Slots
Layout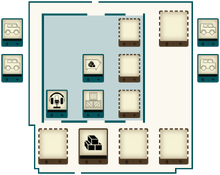 The Lumber Mill has the most customizable large slots in the game, however it doesn't have many small slots.
The base has a fairly simple layout. It has three main areas: The warehouse, the yard around it, and the train platform in the back. The warehouse and its yard is surrounded by a chain link fence, which has barbed wire on top almost everywhere, however there's a segment on each side without it. The train platform has the most interesting makeshift "wall" around it. The people living here probably started fortifications on the west, since the wall here seems sturdy and proper. On the south and east it shows they had to speed things up to finish surrounding the base. On the east it's just a pile of logs and trailers. The base can be entered from each side.
One of the large slots is next to the base, while the other three and the Lumber Pile is up on the train platform. Inside the warehouse you'll find the 3 small indoor slots, the Storage, and the Sawmill. The Locker is here too, by the end of the Sawmill. The Command Center is up on a platform, accessable via stairs.
You can find 2 Parking spots on both sides of the base.
Requirements
8 Survivors
3500 Influence (1750 in Green Zone)
Pictures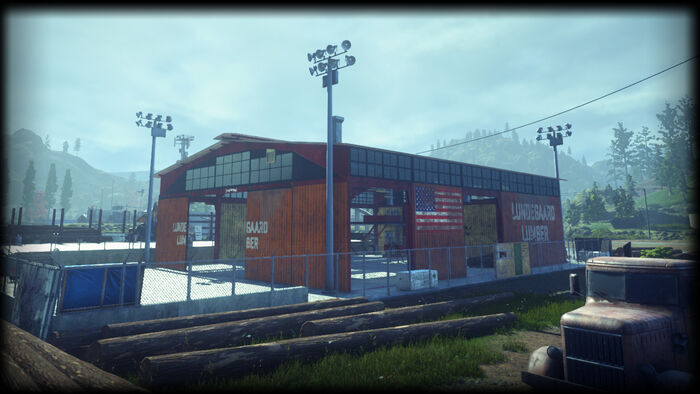 Trivia & Notes
Since the base has no Small Outdoor facility slots, certain facilities like the Rain Collector, Still, or Watchtower cannot be built here. In case you don't have the Amenities Legacy Boon active your only option to provide your base with Water is by claiming a Water Outpost.
This was the first base with more than 3 Large Slots. The devs compared this base to the Infinity Gauntlet from the Avengers movie franchise, since it lets you "collect" every Leader Project at the same base.