The Pterodactyl Ptark is one of six home sites located in Trumbull Valley. It is the small base of the map, located in Spencer's Mill, on the middle-eastern part of the map.
"A former trailer park converted into a unique elevated base. Features plenty of rooftop space and some familiar prehistoric decor."
Facilities
The base has 14 facility slots in total: 8 small outdoor, 5 small indoor, and a large slot.
Built-In Facilities
Open Slots
3x Small Outdoor Slots
1x Large Slot
Layout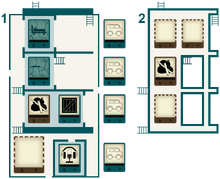 The Pterodactyl Ptark is half of a trailer park turned into a modest fort. It's the spiritual successor of the Jurassic Junction base.
Whoever built this place they used the same exact walls which were used for surrounding Jurassic Junction. The pterodactyl from JJ's entrance is also here with some other dinosaur decorations around the base. There are 4 entry points: A metal door in the back, a gate door on each side, and a ladder outside on the front.
The base has 2 floors - most facilities on the ground floor are between the trailers. The Locker is also there, next to the Storage. The Command Center is inside the shed in the back, and the large slot is next to it.
There are 3 ladders and a ramp allowing you to get upstairs, where you'll find the Trash Pile and the small outdoor slots. The trailer roofs with the platforms between them also double as a great shooting platform.
You can find all 4 Parking spots next to each other along the north-western wall.
Requirements
4 Survivors
500 Influence (250 in Green Zone)
Trivia & Notes
There's actually a Jurassic Junction 2 graffiti on the base's wall by the Parking spots, confirming that its builders were actually trying to recreate the base from Heartland.
Brock had a line in Heartland about he could pull the pterodactyl down to Spencer's Mill if he'd put his mind to it, which might hint to Brock being involved in building the base.
Back in the original State of Decay the pterodactyl had physics. According to Undead Geoffrey he and Undead Brant used to try getting it down to Spencer's Mill in their old streams, which was probably an inspiration for the base and Brock's line as well.