Jurassic World: Dominion Dominates Fandom Wikis - The Loop
Play Sound
The Wheelhouse Truck Stop is one of seven home sites located in Drucker County. It is one of the medium bases of the map, located in Meturato, on the western part of the map.
"A truck stop and a diner, once used as staging grounds for a refugee camp. The auto shop should be repairable, there's a huge tank of fuel the military was using, the kitchen in the diner works, and the tables can be salvaged for materials."
Facilities
The base has 14 slots in total: 6 small outdoor, 6 small indoor, and 2 large slots.
Built-in Facilities
Open Slots
Layout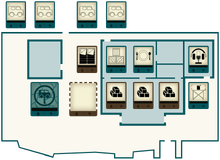 The Wheelhouse Truck Stop is an old roadside diner, fortified and later abandoned by the military. It is inferior but almost identical to the Fortified Truck Stop base.
The base consists of the diner and the Seckens Auto Repair next door. On the sides and in the back the base is surrounded by its original chain-link fence. Since it has barbed wire on the top, zeds can't climb in from these directions. The front of the base got barricaded post-outbreak using concertainers, shipping containers, and trailers. These also have barbed wire on top to prevent zeds from climbing them. There are 2 entry points: a metal door in the front and another one in the back. During sieges the zeds tend to prioritize these for breaching, but be aware! They can also climb a section on the side next to the Auto Shop. You can also climb almost anything around the base to use as a shooting platform: The roof of the diner, the Huge Fuel Tank, and the containers and trailers in the front.
Entering the base from the back you'll find yourself between the diner and the Seckens garage. The Outdoor Beds and the large slot are here. The Auto Shop is infront of the garage. The garage itself is only a set piece and has no functions. The Huge Fuel Tank is also outside, on the other side of the diner.
The diner has two entrances in the front and a service entrance in the back. Entering from the back you'll find yourself in the cooking space - here are the Storage and the Restaurant Kitchen. A small office can be found in a small room next to the Kitchen, however it has no functions. In the dining area you'll find three Seating Areas and the Locker next to the cash registers. Behind the Locker there's a restroom, but it also has no functions. The Command Center is in a small garage on the side of the diner.
You can find all 4 Parking spots behind the base, two on each side of the back entrance.
Requirements
5 Survivors
1000 Influence (500 in Green Zone)
Trivia
The Command Center in this base gets a passive bonus called Good Radio Equipment, providing +35% Command Center Action Speed for the facility.